2014 Rewind: My year in review
About this time last year I started blogging more often and made a decision to spend a little more time giving back to the community and completely re-branded myself to be more efficient in what I do. Oh boy was it a year!
Looking back on 2014 brings back both happy and sad moments, but also life changing events as well. Unlike the other technical articles I've written in the past year, this one will be different and completely dedicated to 2014, my year...
End of a fantastic era
After about five years of working for EOH Microsoft Services at Momentum it was time for me to move on with my career to pursue other exciting opportunities in the software industry. We had so much fun and as the A-Team (of our time) it was great being part of a group of real rock stars, but it sadly had to end as we parted ways end of January.


The birth of a vlog
It still feels like yesterday when the very first episode of GeekFest was released. In addition to owning 2014 and make it my year, GeekFest was born to serve as a platform to showcase interesting people in tech and share their cool projects by means of vlogging. Although there weren't quite as many episodes published that I hoped for, plans for rolling out more (consistent) episodes are definitely in the pipeline. Visit and subscribe to my YouTube channel and stay tuned for more to come.


Embracing OSS
Back in January I pushed the first commit of WebApiProxy, an open source project for generating JavaScript and C# proxies from RESTful services built with ASP.NET Web API. Being my very first "official" OSS project, the turnout has been quite good so far with 23 members,  22 forks, 14 watchers, 37 stars and 820 downloads of the Nuget package to date. Hopefully this will grow into something useful and more integrated in the near future.


Lights, Camera, Published!
One of the biggest milestones of 2014 was the release of my first video tutorial, RESTful Services with ASP.NET Web API published by Packt Publishing. After months of planning, research and hours of recording it finally was published and made its way to a few online stores. I am also truly thankful for all the positive reviews on this edition.
Going Dutch
Early this year I received great news of an awesome opportunity in Europe and shortly after got the job to work for a company based in the Netherlands. I was absolutely stoked and couldn't wait to start our new lives in a First World Country. In this time I wasn't very active on my blog, due to packing up my life and moving to another continent. It also wasn't easy going from 0 to Dutch in a few months and plenty of planning went into successfully transitioning from South Africa. Now, after seven months living in this beautiful country, we're still absolutely loving it.


May 19, 2014
More sad goodbyesShortly before we moved to the Netherlands our two (little) doggies passed away. I was devastated by what happened and couldn't believe that they were actually gone forever. May Roxy and Lilly rest in peace. That moment was one of the hardest times of my life.


Starting from scratch
Although it is sometimes hard to start over, but most of the time it is for the better. After just moving from sunny South Africa we had a lot to get used to, like driving on the (right)-hand side of the road and settling in with our new Dutch homies. I continued with blogging again but still struggled to find the time to do proper community work between late nights driving back from work, weekly language lessons and regular visits to IKEA on weekends.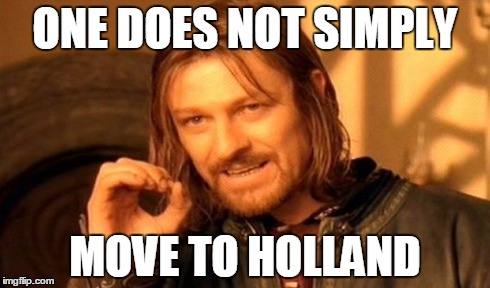 Got awarded an MVP
In the third quarter of 2014, I received an e-mail explaining that I was nominated for a C# MVP award. I couldn't believe my eyes and got so excited. I didn't think that such a honorary award will actually come my way, and then, BOOM! It happened and I officially got awarded a C# MVP for 2014 in August. This really motivated me to work harder and to give back to the community.


Celebrated a decade of love
I am married to my best friend and the love of my life Andrea Reynders. September marked our five year wedding anniversary and in October we've been together for ten years! I am blessed with the best wife in the world and without her none of my achievements thus far would've been possible.


Sleepless in Seattle
Just when I thought things couldn't get any better, Microsoft announced the Global MVP Summit hosted in Seattle inviting all MVPs to attend. My mind was blown away. It was always a childhood dream of mine to visit the Microsoft Campus and couldn't let this opportunity pass by. Attending the summit is also one of my official milestones. There I learned quite a lot and the parties were insane. I even got to meet a few of my all time hero's including Scott Hanselman.


White Christmas
Nearing the end of the year we got a pleasant surprise in the form of snowflakes. Being from a warm country like South Africa, I am not really used to the white blankets of ice. Although it started snowing just after Christmas, there's still that sparkle in the air that adds to the festive season.


That's a wrap
What a wonderful year it has been with plenty of up's and downs. I really had a fantastic year. Here is to 2015, may it be even more exciting and bring you lots of happiness.
That's all folks! Enjoy the parties responsibly.